Measuring Your Property
When you decide to build, you need to measure the size of your lot in order to determine how much room you have for your building.
You can often find your lot size and property lines by searching public records, but with those, you run the risk of the lines being defined by a hedge that has been chopped down, or a little stream that dried up years ago. The deed or other documents in your purchasing paperwork should have a description that can help you determine the size if it does not explicitly say what size the lot is.
If you have not bought the land you want to build on yet, and you cannot find the lot size in public records, there are tools online to help measure the lot size for you. General Steel has an interactive tool that allows you to determine how big of a building you can fit on your property, and then gives you a quote for the building based on that.
Floor Area Ratio
Now that you have measured your lot size and determined what setbacks you have to conform to, you need to determine your floor area ratio. Floor area ratio is the building's floor in relation to the total size of the lot the building is on. It is usually a decimal and is derived from dividing the building's area size by the lot's area size.
Other Considerations
When buying land for your home, keep in mind the layout of the land itself. If it is on a slope, you will have to get it excavated to level the land out before you can begin building.
Collect a few soil samples for a soil test while you are driving stakes into the ground around the perimeter of your property. A soil test is one of the most popular geological studies because it can uncover potential issues such as expansive soil that can threaten the lifespan of your building if you plan to build a pole style structure.
"Also, it is wise to carry out a Geotechnical Investigation to determine the ground classification – if rock, the cost for a rock breaker to do the excavation is on an hourly rate and could result in huge amounts more before you even commence construction of your home. Alternatively, if the ground is too soft or there is a natural spring or groundwater you will also be looking at additional costs to drill foundations down through this to stable ground," says Marnie Beauchamp, a real estate expert at McGrath Estate Agents.
Utilities, Tap Fees and Construction Costs
Determining your water source and electrical connections is another big thing before you begin building. You should be able to get an idea on that by contacting your local utility companies, and you may be able to get quotes for how much it may cost you monthly. The total cost of construction it will take to complete  your project can be dependent on the conditions associated with the land you buy or own. Driving pylons into bedrock, blasting away granite or bringing in new soil should all be accounted for if necessary.
Cost to Build a Garage
From running electricity to pouring a concrete slab, here's the costs linked with building a detached garage.
Cost to Build a Garage
Cost to Build a Home
Steel homes are more popular than ever and typically save you money, learn how much it costs to build a metal home.
Cost to Build a Home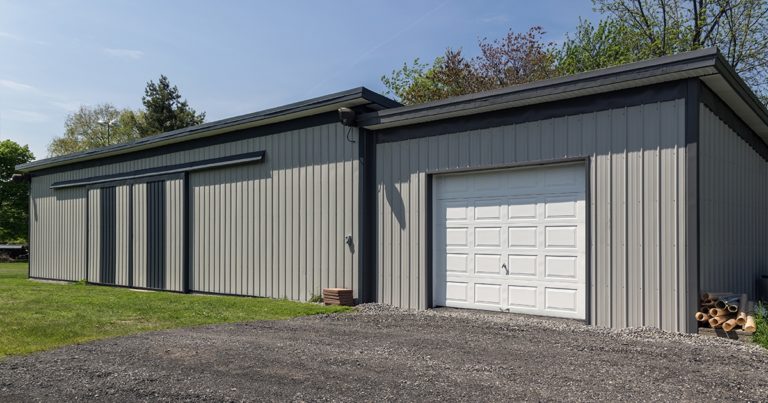 Steel Building Construction Costs
A successful project hinges on proper planning including how much it will cost to construct your steel building.
Steel Building Construction Costs